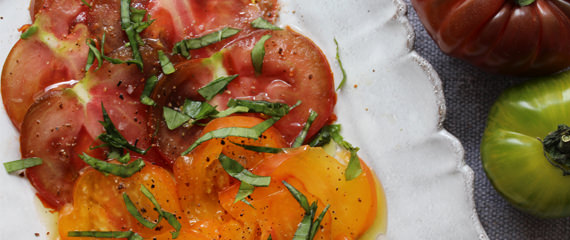 Red, Green & Yellow Heirloom Tomatoes
It's really the perfect timing for tomatoes as they are available on market stalls…there are seasonal !
My favorite fruit and veggie grower had heirloom tomatoes of different colors…a feast for the eyes and for the palates
With a delicious olive oil brought from Provence and fresh basil… Yummy!
Ingredients:
1 large yellow tomatoe
2 medium size green tomatoes
1 large red tomato ('cœur de boeuf' variety)
some olive oil (go for 2 tbsp)
the juice of half a lemon
a handful basil leaves chopped thinly
Guérande salt
pepper
Recipe:
Clean the tomatoes and slice them thinly (peel them with a small knife if you prefer)
Place them in a color rainbow, drizzle with the olive oil, the lemon juice, season to taste
Top with basil before serving
Enjoy!