For this recipe, I collaborated with  @lou_in_paris .
My friend Louise is a British expat based in Paris since 2009. Working in marketing by day and moonlighting as a freelance writer, Louise has a weakness for cocktails and independent bookstores, seeking them out whenever she travels to a new city. Read more about her Paris life on her blog, Lou in Paris, or visit her Instagram, which mostly features French pâtisserie and Parisian façades.
The idea we shared with Louise was to talk, with words and pics, about the seaside culinary differences between her country and mine. This is where I found that our English neigbours love their chips with mashed green peas – to mention one – whereas we tend to like to soak our baguette into our 'moules marinières' wine, parsley, salted sea water and onion sauce (no manners needed, you eat this dish with your fingers and actually the first mussel shell serves as a claw for the next one).
In this post, you'll find then those two recipes: the fish and chips (wheat-free crust for the fish) and the moules marinières.
"Oh I do like to be beside the seaside – by Louise Binns
 As a Northerner, with working class blood running through my veins, the seaside conjures up very particular memories. Namely eating fish and chips out of a paper bag on the beach whilst eyeing up the fairground rides that I was too scared to spend my pocket money on.
The British seaside is not all 99 flake ice cream and donkey rides however: its murky side can be seen in Pinky Brown, the cold-blooded sociopath from Brighton Rock and its spirit of escapism is on display in the The Last Resort, a wonderful photography series by Martin Parr featuring families from the north of England enjoying their summer holidays.
The latest incarnation of the British seaside seems to be respectability and gentrification. In Margate for example, the Dreamland theme park has undergone a multi-million pound facelift and lives peacefully side by side with the Turner Contemporary Art Gallery, whilst coastal music venues are gradually replacing the has-been entertainers with trendier artists.
 On the French coastline, they don't appear to be a fan of donkey rides…In fact there's not much to do besides take in the breathtaking views. A recent visit to the northern coastal town of Etretat in Normandy had me humming The White Cliffs of Dover as I discovered its chalky cliffs, but that's where the comparison ends. Generally speaking, going to the seaside in France involves less entertainment than in the U.K. – with more refined culinary options.
You'll notice that the further south you travel in France, the glitzier the vibe becomes. Take the French Riviera for example, the glamorous setting for Fitzgerald's novel Tender is the Night, where the U.K.'s excess and escapism is transformed into luxurious hedonism. The beautiful and the wealthy relax on their yachts before heading to pricey beachside restaurants that boast the freshest seafood.
Whilst being a huge fan of the fresh oysters and cooked mussels that you find at the French seaside – especially when accompanied with a glass of crisp, white wine – if I had to choose between these two delicious recipes below, my heart would go for the fish and chips (soaked in vinegar – just don't tell Elise!)."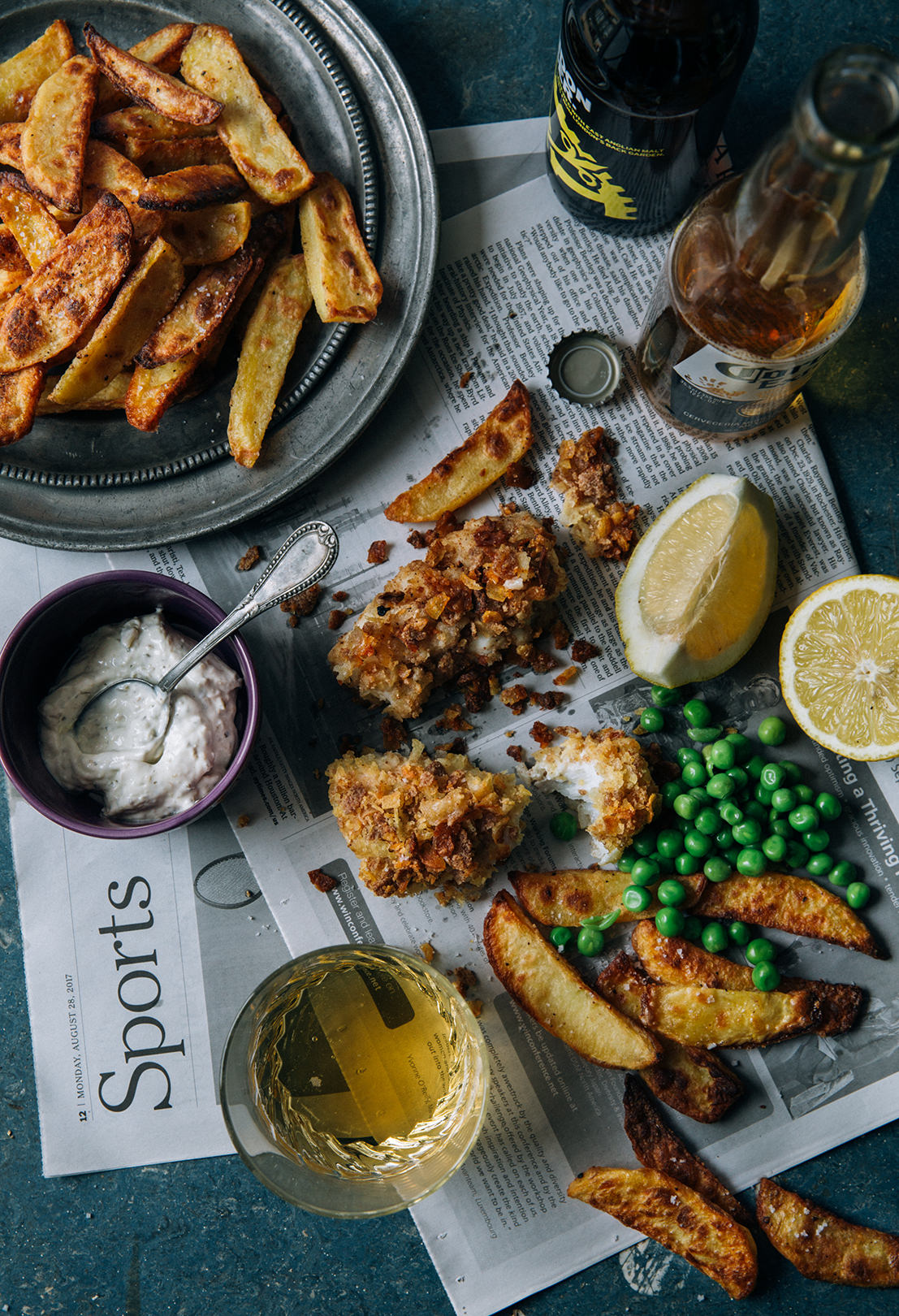 Ingredients : For the fish and chips (4 people)
1kg organic potatoes, peeled and quartered (keep the skin but brush it beforehand)
350 ml beer (gluten-free)
1 tbsp gluten-free flour
2 tsp salt
1 pinch of pepper
4 tbsp organic olive oil
600g white fish cut into individual filets
2/3 de cup spelt oats (or other gluten-free cereals). Use a blender to turn them into a roughly grinded mix
1 tsp salt
1 tsp organic butter
1 tbsp olive oil
3 egg yolks, mixed
1 store-bought tartar sauce
lemon wedges to serve
250g organic frozen green peas
1 handful chopped mint leaves
1 tsp butter
Guérande salt
For the 'Moules Marinières' (4/5 people)
4l mussels, cleaned
1 tsp butter
1 tbsp olive oil
2 shallots, peeled and diced
15 cl white wine (dry)
2 large handful chopped parsley
Recipe for the 'fish and chips':
Preheat your oven to 350°F
In a bowl, pour the beer and soak the potato quarters. They have to be submerged
Leave them to soak in the beer for an hour and place the bowl in the fridge (they will be crispy and soft at the same time)
In another bowl, mix the flour, the salt, the pepper and the olive oil
Drain the potatoes and pat them with paper towel. Then toss them to the bowl in order to coat them with tthe flour/salt and olive oil mix
Place them in an oven pan with baking paper and lay them flat. They should not be stacked otherwise they won't cook properly. Leave them to cook till they are golden and flip them along the way, so both sides are golden
Mix the cereals and the salt
Take every fish filet and roll it in the egg yolks, then in the cereals (press firmly so the cereals stick to the filet) before cooking them in a hot pan with the melted butter and olive oil. Leave them to cook till their crust is golden on both sides; Set aside on a plate covered with paper towel
In a bowl, crush the green peas with a fork and add the melted butter, the mint and a pinch of salt
Serve with lemon wedges and tartar sauce
Recipe for the 'moules marinières':
In a large cocotte, mix the butter, olive oil and shallots and leave them till they are slightly golden
Add the mussels, the parsley and the white wine
Leave the mussels to cook till they all open (about 8 to 10 minutes)
Serve with a crisp white wine