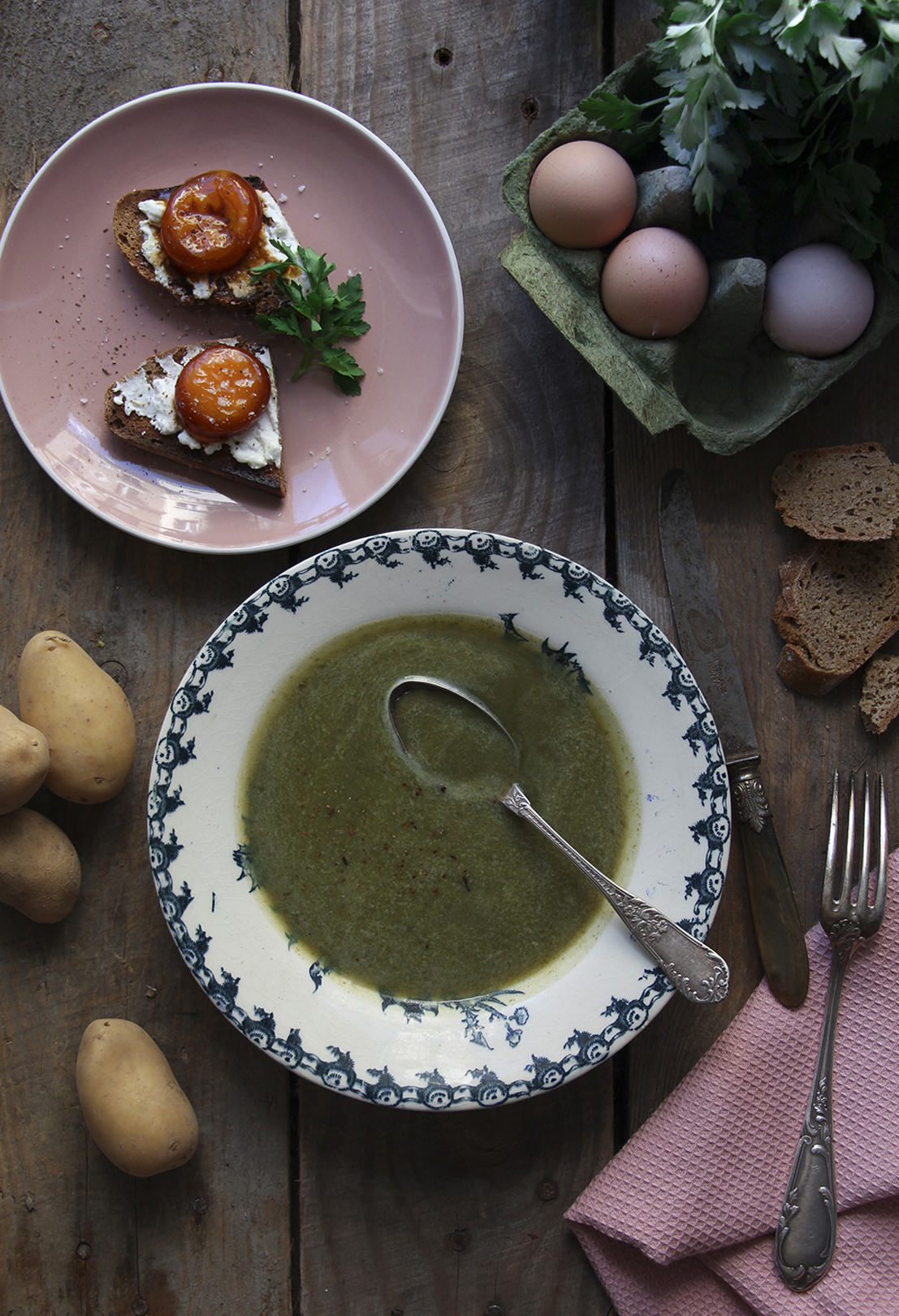 When I was little, I remember a dish my grandma Madeleine use to make. She did not like to cook but she made this meal with great joy and enthousiasm: eggs with sorrel ! This dish had a very 'lemony' flavour with the great amount of sorrel and my tastebuds still remember this countryside French recipe. When I found some sorrel, the other day at the delicatessen store,  I thought it was my turn to try and make the most of it. Sorrel and fresh spinach are a wonderful combination for a soup and the coconut cream gives a softer note to the mix. Eggs are no longer combined with sorrel directly but are served as a side dish. The yolks are 'cooked' in tamari (the wheat-free soy sauce). Place the yolks at least for 30 minutes and the acidity of the sauce will 'cook' them. Then serve the yolks on toasted spelt bread with fresh goat cheese.Ingredients:
1 sorrel bouquet (approx. 20 large leaves)
2 large handful spinach leaves
4 middle size potatoes, peeled pommes de terre de taille moyenne, épluchées
1 tbsp coarse salt
100 ml coconut cream (and some more if you want to serve)
1 tbps organic butter
2 tbsp olive oil
Guérande salt and pepper
4 toasted spelt bread slices (optional)
4 tbsp fresh goat cheese (optional)
4 egg yolks 'cooked' in 1.5 cup tamari (optional)
Recipe:
Clean the sorrel and spinach leaves and dry them
In a pan with salted cold water, cook the potatoes till they are tender under the knife. Keep the cooking water with the potatoes, it will be the base of your soup
In a pan with oil and butter, slightly brown the sorrel and spinach leaves (be careful so they do not burn)
Once they are cooked, pour them in the water with the potatoes
Mix the veggies with a blender, add the coconut cream then mix again
Season to taste, add more coconut cream if you want before serving with the spelt/ yolks / goat cheese tartines
Enjoy !