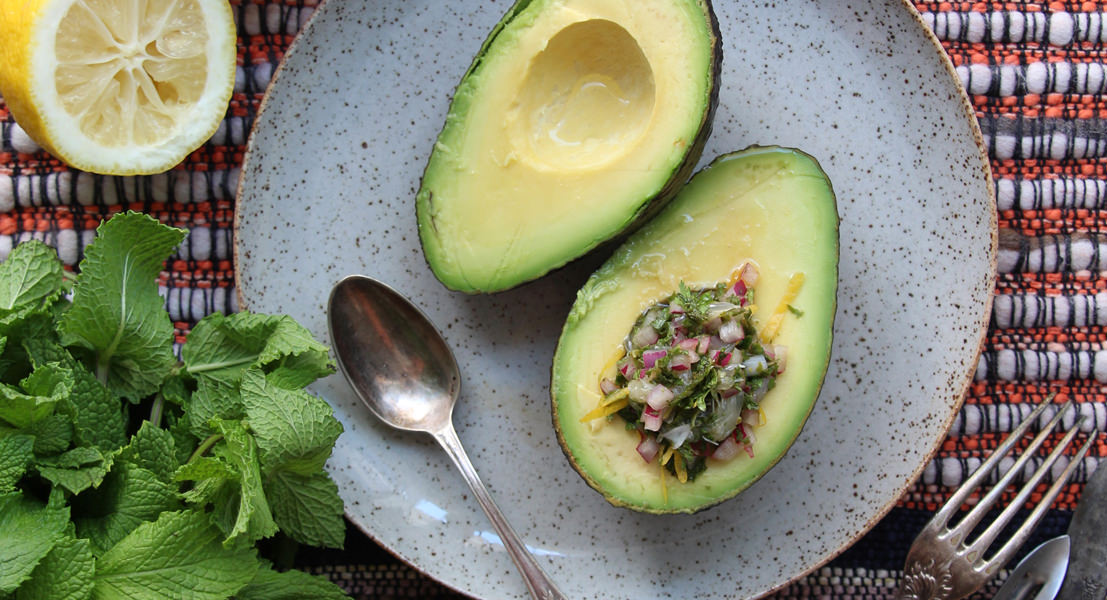 22 December 2016
in Starter
Avocado & 'Gremolata'
Gremolata (from the Milanese gremolà, to crush grains into smaller pieces) is a side dish traditionally served with a dish of 'osso buco' (a veal recipe) as well as ith white meats. It is also served with pasta.
Combining parsley, orange and lemon zests and even sometimes fresh rosemary or even anchovy filets, the gremolata is usually added just before serving a meat or a pasta dish.
The classic recipe has been 'transformed' to be tasted with avocados. And this might just one of the greatest ideas of the moment as it is cold, and as fresh herbs bring vitamins (A, K, B9) as well as minerals like calcium, magnesium, potassium and iron.
Parsley for example, is also loaded with antioxidants and does help cleanse your kidneys by eliminating toxins.
I'm not even mentioning anymore the healthy qualities of an avocado (rich in fibers, vitamins, good fat, micro-nutrients…) !
You can serve this gremolata with other veggies. Do not keep this mix for too log in your fridge though, you would loose its freshness and those amazing vitamins.
Ingredients:
2 ripe avocados, peeled, halved and stoneless
1/4 red onion, peeled and sliced thinly
2 tbsp cider vinegar
1 tsp agave syrup
1 pinch salt and  pepper
1 large handful parsley leaves, cleaned, dried and chopped
1 handful mint leaves, cleaned, dried and chopped (optional)
the zest of one organic lemon
the flesh of the same lemon, thinly diced
2 tbsp olive oil
Recipe:
In a bowl, mix all the ingredients and leave them to marinate for approx. 20 minutes (in your fridge, with a closed lid)
Cut in half the avocados
Mix well the ingredients of the gremolata and serve with the avocados