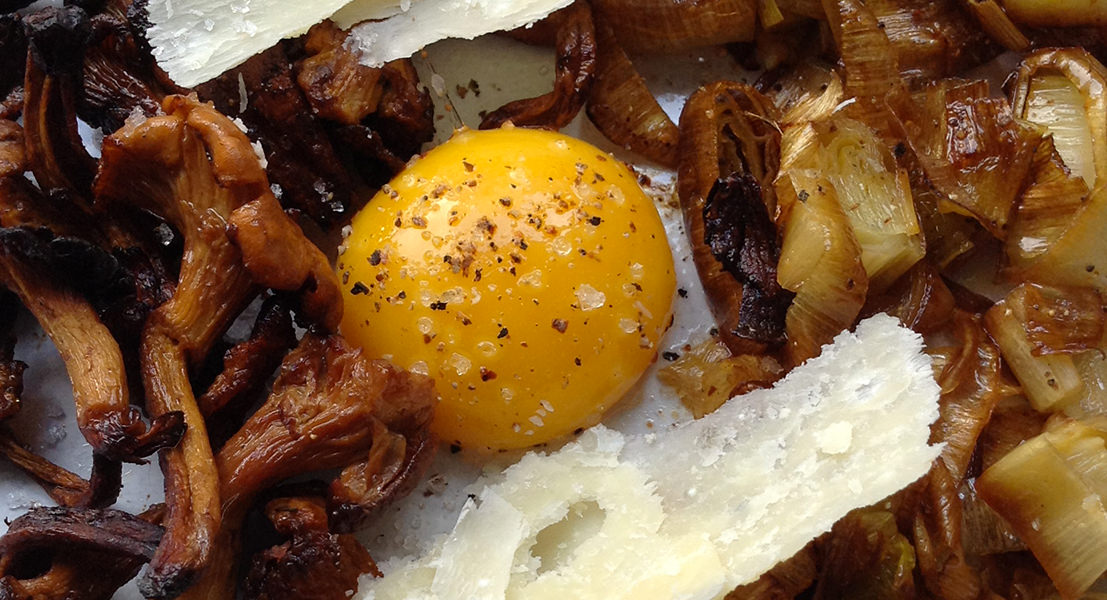 20 November 2014
in Starter
Mushrooms, Leeks, Egg Yolk & Parmigiano
I'm just coming back from Milan where I had, as usual, exquisite dinners made of greatly seasoned veggies, fishes, meats….I also visited small 'negozi di formaggi', 'una salumeria' and 'un orticolo' on my way to work (basically delicatessen selling amazing cheese, hams, vegetables and fruits) and not only was I drooling on the counters, but that also sent me back to my 'cooking wish list' and the recipes I want to share with you.
One of the ingredients I saw in all those tiny yet marvellous shops were mushrooms: dried or fresh, they were – like in Paris market stalls- everywhere !
Here's a recipe made of mushrooms and roasted leeks with…egg yolks. I've used chanterelles but you can easily switch to another variety.
Ingredients:
2 large leeks (keep the white part and slice it thinly)
500G chanterelles / you should ideally brush them to remove the dirt; if you wash them, use a salad spinner to remove the water
4 egg yolks
grated parmesan
olive oil
salt and pepper
Recipe:
Preheat your oven to 300°F.
On an oven dish, spread out the leeks and sprinkle with olive oil.
Roast the leeks till they are tender and lightly golden.
Cook the mushrooms in a pan with a tablespoon of olive oil till they look 'grilled' (careful not to burn them) . So they can loose all their water, you need to cook them on full heat and then reduce the fire.
In a plate, display the leeks, the mushrooms and the egg yolk.
Add salt and pepper, as well as grated parmesan.