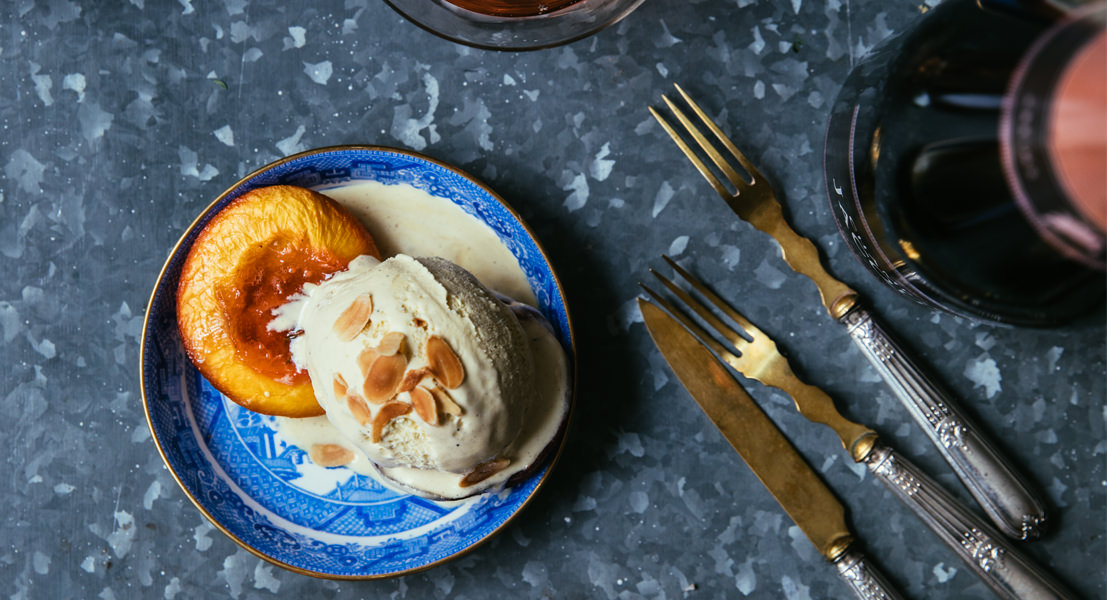 Roasted Peaches & Fresh Thyme Like a 'Peach Melba'
Do you know that the 'Peach Melba' dessert was created by a French Chef, Auguste Escoffier, for a famous Australian opera singer called Nellie Melba?
Normally, this dessert is made of a half a poached peach, some vanilla ice cream and chantilly as well as some fresh raspberries or coulis.
The below recipe 'like a Melba' has been prepared by chef Flora Mikula for Champagne Jacquart.
I worked, again, with one of my favorite English girls, Louise Binns aka @lou_in_paris, for this prestigious Maison. She wrote, I photographed.
You can adapt the recipe if you want: replace the traditional ice cream by a vegan version, the milk chantilly by a coconut one …I've traded the original rosemary for fresh thym and the 'orgeat' flavor for a regular one…but this champagne rosé is irreplaceable!
***Say hello to the French Champagne brand, Champagne Jacquart, with a mouthwatering food and drink pairing to keep everyone both cool and happy in this sweltering heat. I was introduced to the brand earlier this year and have fallen under their spell because of the intimate experience they offer, which differs from the heavy Champagne hitters, such as Möet et Chandon, Krug or Veuve Clicquot.
Champagne has always enjoyed extremely high domestic sales, but 2017 figures revealed some interesting changes in the market. French sales of Champagne were lower than previous years, apparently due to less promotional activities. EU demand also decreased, thanks to the continuing boom for Italian Prosecco and Spanish Cava. Internationally however, 2017 saw a significant growth of 9% in non-EU export countries, in particular the U.S., Japan and Australia.
This is good news for Champagne Jacquart. With a bold spirit and modern approach (the house was founded in 1964) they have considered the international market since the beginning. For me, it's their soft spot for Chardonnay grapes that appeals strongest. Offering a selection of 8 different bottles – 6 classic, 2 rosé – today I'd like to put a spotlight on their mosaïque rosé.
The first thing you'll notice is the pretty colour, a rose petal pink with orange highlights. Upon first opening, the nose detects subtle fruity notes, primarily wild strawberry, vine peach and kumquat. After some airing, i.e. your second or third glass, the fruity palate opens up to fig, grenadine, red currant, raspberry, dried apricot and pink grapefruit zest.
The blend is 45% Pinot Noir (red grape), 34% Chardonnay (white grape) and 21% Pinot Meunier (black grape), which makes for a bold and juicy taste in the mouth that is also welcomingly fresh. Whilst the vintage rosé can be enjoyed as an apéritif or paired with fresh fish, such as scallops or langoustine, we decided to indulge our sweet tooth with a peach dessert. Find the recipe below! ***
Ingredients:
2 peaches
2 tbsp honey
the juice of half a lemon
15 cl water
few sprigs of fresh thyme
4 scoops of vanilla or nougat ice cream (or other vegan substitute)
2 tbsp roasted slivered almonds
some chantilly
Recipe:
Preheat your oven to 300°F
Roast the almonds (check constantly so they do not burn); Set aside
Boil some water in a pan. Cross-cut the top of the peaches with a knife? Leave them to boil for 30s, then drain and peal them easily with a knife. Place them in an oven-proof pan and top them with the lemon juice, the honey, the water as well as the thyme leaves.
Leave to roast for 30 minutes and constantly top the peaches with syrup so they do not dry. Retrieve from the oven, cut the peaches in half and remove the stones. Set aside to cool down
Serve with vanilla ice cream, chantilly and the roasted almonds