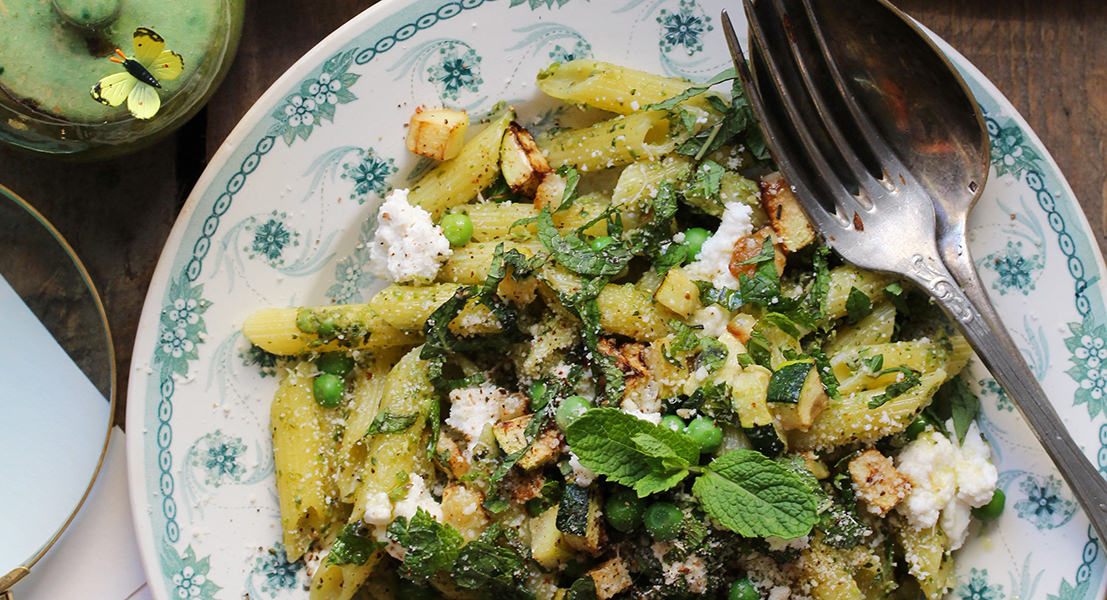 12 August 2015
in Main Course
Gluten-Free Penne, Zucchini, Green Peas & Bufala Ricotta
It's Summer time! And it's so nice to cook some tasteful and sun-risen ingredients !
I found lately an incredible mint on a local market as well some ricotta di buffala. Generally made of cow milk, I had forgotten about using ricotta in my cuisine and storing it in my fridge.
Made of buffala milk, this 'ricotta di bufala campana' comes from few Italian regions such as Campania, Latium, Puglia and Molise (globally in the center and in the South of the country).
It is a soft, slightly sweet ingredient, which combines very well with sweet or salty dishes.
Here's a pasta recipe with greens, herbs and this amazing ricotta… delicious warm or cold! HAPPY SUMMER !
Ingredients:
300g gluten-free penne
1 zucchini, peeled and diced
50g pine nuts
1 cup mint leaves + 1 extra handful for the final dishes
1 cup basil leaves
1/2 cup green peas + 2 extra tbsp for the final dishes
5 tbsp olive oil + 1 tsp for the zucchini + 2 tbsp for the final dishes
5 tbsp fresh ricotta di bufala
2 tbsp grated parmesan
Guérande salt and pepper
Recipe:
In a pan, cook the zucchini with olive oil till they are golden. Set aside
Prepare the pesto mixing the mint, the basil, the pine nuts and the peas in a blender. Mix till you reach an homogeneous mixture
Cook the pasta following the instructions on the package. Drain and place the penne in the pesto
Stir well so the pasta and the pesto mix well
Serve the pasta topped with ricotta, extra green peas, chopped mint, parmesan and drizzle with the rest of the olive oil
Season to taste before serving
Enjoy!