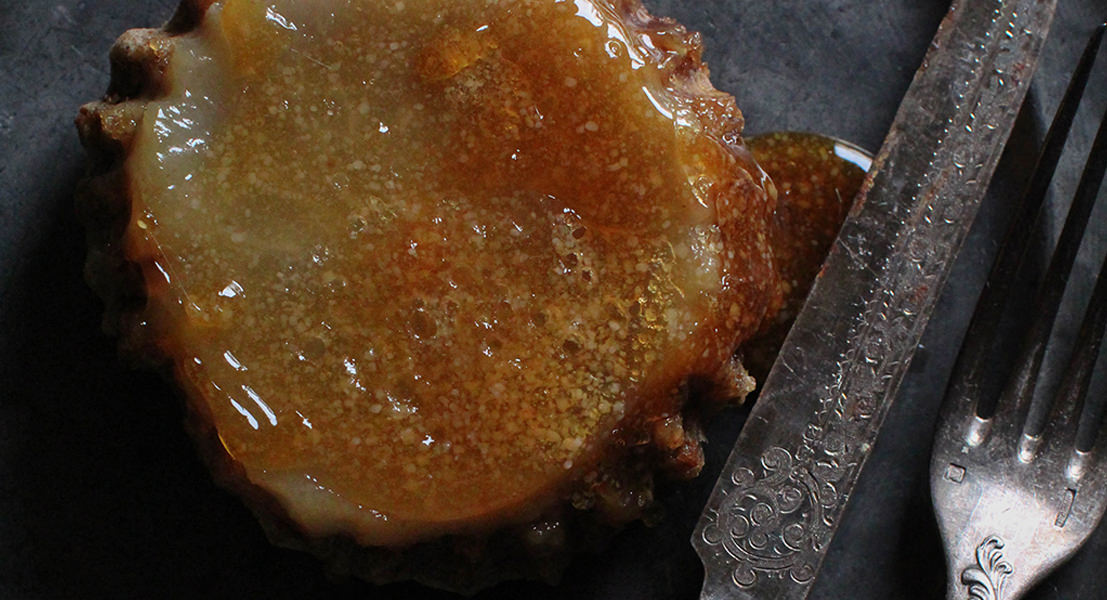 31 January 2017
in Dessert
Little Airy Cakes with Caramelized Pears
One of the last weekends at the countryside by the end of 2016 was dedicated to making those little airy caramelized pear cakes. Iv'e used some pears called 'passe-crassane'. This pear is known for its red wax 'hat' on its stem which is added to prevent the water from evaporating and therefore the fruit from wilting. It is also known for its kind of granular texture as it was created by mixing a pear with a quince during the 19th century.
I've also used some of our eggs from our garden (only the yolks) and the result was really worth the wait.
The base of those cakes is actually a 'muffin' one to which I've added some buttermilk for the moist and to give it this airy texture.
You can replace the pears by apples or any seasonal fruits.
Ingredients:
2 pears 'passe-crassane' or other ripe pears
1 1/4 cup spelt flour + some extra to flour the little cake pans
1/4 tsp ground nutmeg
1/4 tsp cinnamon
1/4 cup cane sugar
the yolk of one organic egg
1 tsp vanilla extract
1/4 cup soy milk
the juice of half a lemon
1/4 cup coconut oil
1 tsp xantham gum
1 tsp baking soda
1 tsp butter to butter the cake pans
For the caramel:
Use 125g sugar and 10cl water. You will pour the caramel at the end on the cakes and it will harden while cooling down.
Recipe:
In a bowl, pour the soy milk and the lemon juice to make the buttermilk and let the mix rest for 20 minutes
Preheat your oven to 350°F
In a bowl, mix the flour, the ground nutmeg, the cinnamon, the baking soda, the xanthin gum, the sugar and the vanilla. Add the egg yolk and the melted coconut oil, mix well
Add the buttermilk and mix well till you get an homogeneous mix
Butter and flour your cake pans (I've used pans for tartlets /9 cm diameter)
Peel and slice horizontally the pears, place them at the bottom of each pan
Pour the dough on each pear
Place in the oven till they are golden and till a knife inserted in their center comes out clean
Let the cakes cool down and then flip them up to unmdold them
Prepare the caramel in a pan: pour the sugar and the water and mix well. Place on the heat and stir till the caramel st
arts to get brown. When the caramel starts to darken, remove from the heat and pour it onto the cakes (be careful not to burn the caramel, the whole operation lasts only few minutes)
Let the cakes cool down a little bit and serve them with or without a coconut milk chantilly