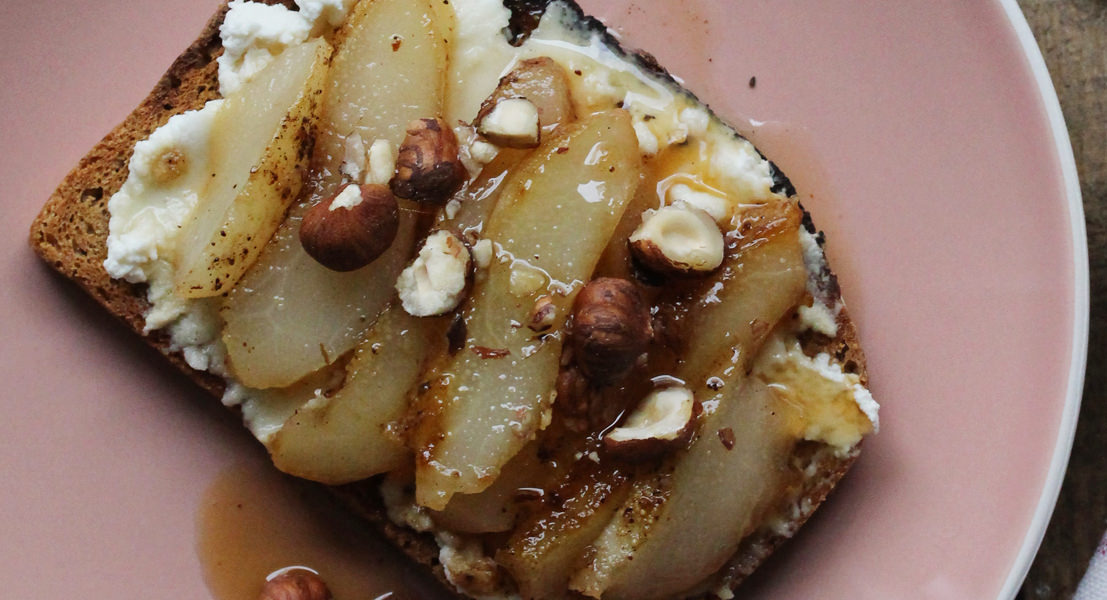 24 February 2016
in Dessert
Roasted Pears, Ricotta & Spelt
It's cold and grey outside and we easily tend to have sweet desserts or snacks.
Here's a simple and slightly sweetened seasonal recipe for a sweet tooth
The pear will alreay bring some fructose so there's no need to add too much maple or rice syrup to caramelize the fruit while we roast them.
The bread is made of spelt, easy to digest as it is low in gluten. It's loaded with calcium, phosphorus and magnesium.
Ricotta is made of buffala milk but you can easily replace it with a classic one (made of cow milk) if you can't find any.
Ingredients
1 pear, peeled, cored and sliced thinly
5 tbsp water
5 tbsp maple or rice syrup
1 tsp ground cinnamon
1 tsp ground vanilla
2 slice spelt
2 tbsp ricotta di bufala
5 chopped hazelnuts
Recipe:
Preheat your oven to 350°F
Place the sliced pears in an oven proof dish with 4 tbsp of maple / rice syrup, the cinnamon and the vanilla
Let them roast till they are slightly caramelized
Toast your bread
Spread the ricotta and top with some roasted pears
Drizzle with 1 tbsp maple / rice syrup if you want and add some chopped hazelnuts
Serve tepid or warm
Enjoy !