9 March 2017
in Main Course
Radicchio di Treviso & Parmesan Risotto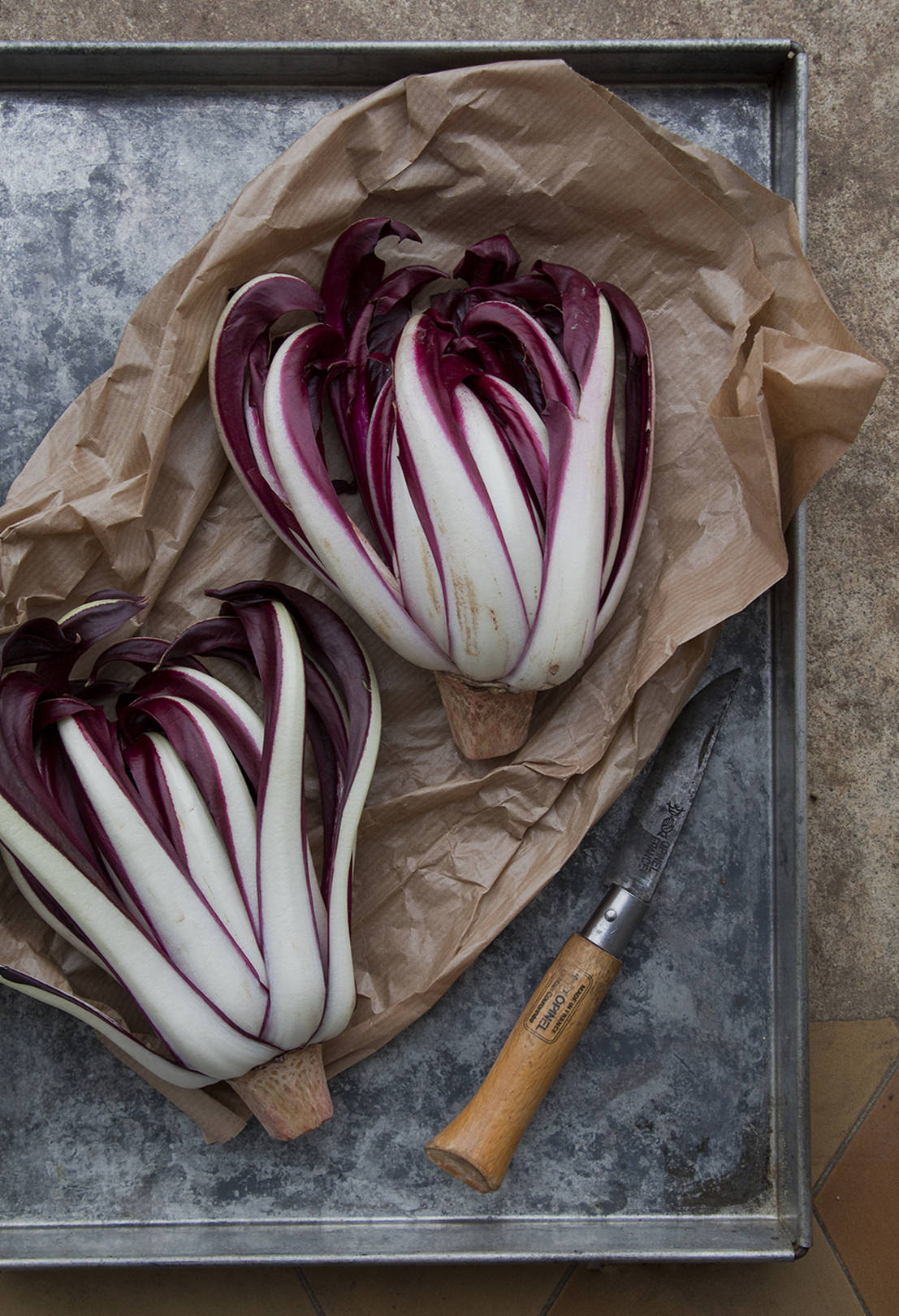 I'm a great great fan of risotto and I love to prepare it with lots of different ingredients. Every time I see a recipe in a magazine, I check the suggested mix, the ingredients used…Once you've understood the principle, every recipe is easy to make !
In this recipe, I've taken my inspiration from a typical Venetian risotto, one originary from Treviso. Its color varies from pink beige to dark red, it all depends on the wine used and the quantity poured into the dish as well as on the quality of the added radicchio leaves.
I found my radicchi in my most favorite italian delicatessen (RAP Epicerie, 4 rue Fléchier in the 9th arrondissement) and its quality is exceptional. I've sautéed the onions with the radicchio and kept the most delicate parts of the salad for the final decoration (the top of the radicchio where the color is the strongest). I've was advised to use a unique risotto rice and it was exactly what I needed: no too round, not too creamy, just pure perfection.
Serving it with fresh grated parmesan, I've pleased many rice eaters…looks like even the small hairy munchkin on the bottom right of the picture would have loved to taste it !
Ingredients:
 1 large yellow onion
 300g risotto rice
2 tbsp organic butter
3 tbsp organic olive oil
2 liters of liquid made of 1.5 liter vegetable broth (either pre-bought in organic store or home made with one celeriac branch, two tomatoes, three carrots, one large onion and 2 liter water) and of 0.5 litre "tomato elixir'" (1 kg small / medium tomatoes with 2 tbsp olive oil)
1 large or 2 small radicchi di Treviso
salt and pepper
1 cup good quality red wine
some grated parmesan cheese
Recipe:
The night before, prepare the vegetable broth by cooking the vegetables in boiling salted water
Once the vegetable are cooked, retrieve the pan from the heat and let the broth cool down with the vegetables in the broth (you'll filter the broth before using it)
Dice the onions and the radicchio (for the salad, chop bits of approx 1.5 cms). Keep the top part of the leaves for final decoration (where the color is the strongest)
I
n a large pan (large enough to contain the broth you'll add to cook the risotto rice), place the butter and the olive oil
Once the butter has melted and the olive oil is warm, add the onion and the radicchio. Cook gently until softened, but not coloured
Add the rice and stir around to coat in the butter and "toast" the rice. Make sure all the grains are warm, then add the red wine. Let the wine evaporate completely, until the onions and rice are dry
Lower the heat and add the broth: the rice should be just under the broth level
Stir the rice constantly (ideally with a special wooden risotto spoon) so it absorbs the broth. When the liquid starts to diminish, add some more and so on on so forth. The rice should be cooked 'al dente' (approx. around 20 min depending on your risotto rice brand). Personally, I love to add the 'juice' of roasted tomatoes that I prepare for the tomato risotto. Just roast the tomatoes and keep the cooking 'juice'. Add it to the broth, it will give a delightful flavour to the dish.
Season to taste, top with fresh radicchio and grated parmesan before serving