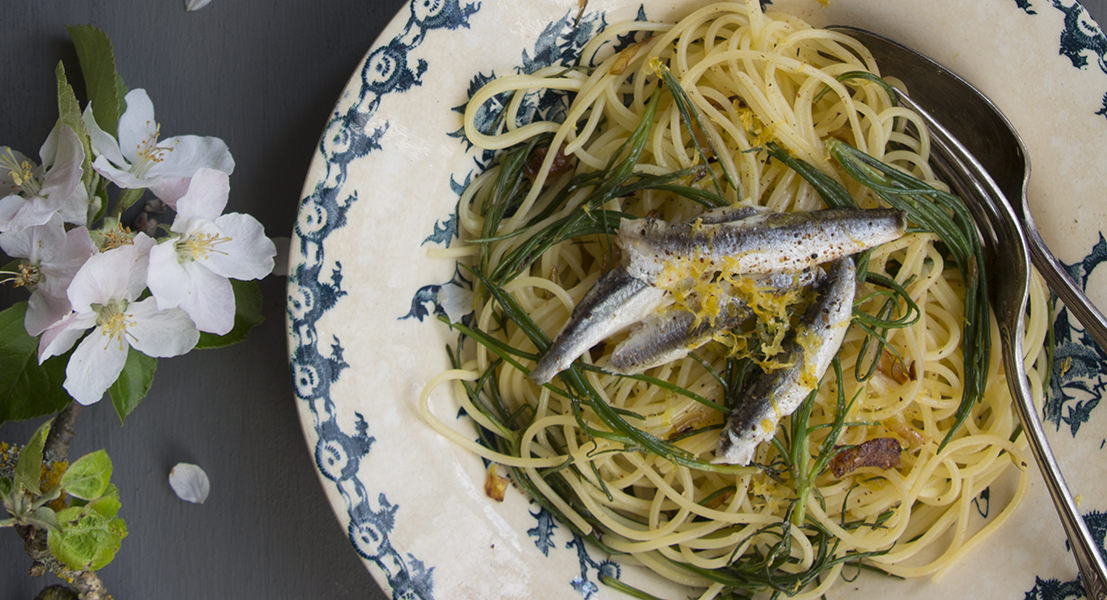 15 August 2017
in Main Course
Agretti, Lemon & Fresh Anchovy Spaghetti
I've discovered agretti last Spring during one of my trips to my favorite Italian delicatessen store (@RAP Epicerie). And because I was spending so much time, back then, changing the web site design, I did not have any to publish this simple yet delicious recipe.
Agretti also called "barba dei frai' or 'salola soda' (that you can traduce by 'monks' beard' or 'common soda') are very well-known in Italian cuisine. They grow on the shores of the Mediterranean sea and they are harvested when their stem reach approximatively 20 centimeters (beyond that size, they are not so pleasant to eat being too firm to the bite)
Their taste is something between seaweed, spinach or even wild asparagus, with an herbaceous and sea flavor at the same time. Agretti are often cooked two ways: either steamed or boiled very quickly (and then – like green beans- put under cold water to keep their crunchiness and green color) or sautéed with olive oil in a pan. I've chosen the second option and sautéed my agretti with garlic, lemon and olive oil.
Do clean them well before cooking them and do not use their non edible base (the brown part). You shouldn't eat agretti too often as they are full of minerals but also of sodium.
Ingredients:
200g fresh agretti, cleaned and cut from their base
200g wheat-free or gluten-free spaghetti
the juice and the zest of an organic lemon and half of a lemon for serving
1 clove garlic peeled and chopped
1 yellow onion, peeled and chopped
3 tbsp olive oil
50g fresh marinated anchovies, drained
Recipe:
In a hot pan, sauté the garlic, onion in olive oil
Cook the spaghetti following the instructions on their package, drain them and set aside
Once the onion and garlic slightly brown, add the drained agretti and cook for a minute stirring well continuously
Top the agretti on the pasta plates, along with the lemon zest and the fresh anchovies