6 October 2017
in Dessert
Blood Orange Infused Polenta Cake & Vine Peaches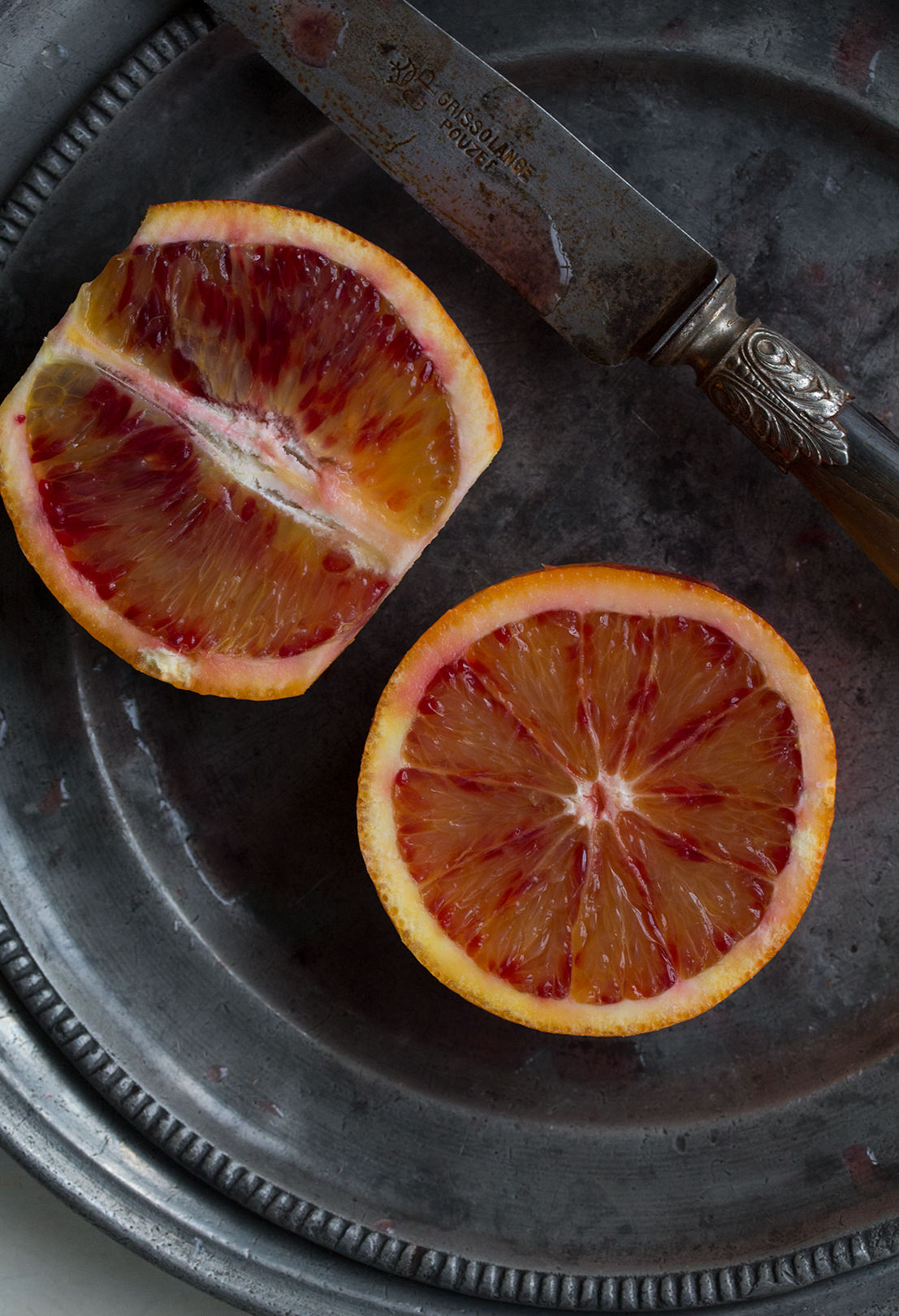 It's been a while since I wanted to make this polenta cake and once I finally baked it, it took me too long to publish it….I can say that the past months have been loaded with new culinary adventures (check my Lifestyle and Workshop sections) !
My wish to organize more food styling and photography workshops in Paris and abroad has grown bigger and bigger. I want to spend more time looking for amazing ingredients to shoot. I want to share with you more recipes made of amazing yet simple ingredients as well as good common sense.
This recipe is in line with this idea. A simple polenta cake which can be twisted with some blood orange zest (you can use a more classic orange if blood orange are out of season) and that your serve with orange infused vine peaches…divine!
You can keep your polenta cake for few days in the fridge if you do not pour the peach syrup on top of it (otherwise it will make it too mushy).
And because polenta is made out of corn, all gluten intolerant can have some of this cake!
Ingredients:
200g pre-baked polenta (written on the package)
285ml buttermilk (for the buttermilk, mix 280ml of soy milk and the juice of a lemon / leave to rest at room temperature for approximatively 20 minutes; this mix will make your cake soft and be a very good substitute to cream)
25g melted butter
1 tsp baking powder
1 tsp baking soda
2 jegg yolks
1 tsp xanthan gum
1 pinch of salt
the zest of one blood orange (or use one regular orange if they are out of season)
For the infused peaches:
3 vine peaches, stoneless and pealed
the juice of one blood orange or of a classic one
2 handful frozen raspberries (or fresh ones if it's still the season)
1 vanilla pod, split and scraped
Recette:
Prepare the fruits two hours before you start making the cake. Place the ingredients in a bowl and mix them, before covering them with plastic film or a plate
Prepare your buttermilk and set aside
Preheat your oven to 350°F
In a bowl, mix all the ingredients starting with the dry ingredients. Then add the egg yolks, the melted butter, the buttermilk and the orange zest
Pour the mix in an oven-proof dish covered with baking paper
Let it bake till your knife inserted in the center comes out clean. The crust should also be slightly golden
Retrieve from the oven and leave it to cool down before cutting it in squares or in slices
Serve with the peaches and some coconut chantilly if you feel like it