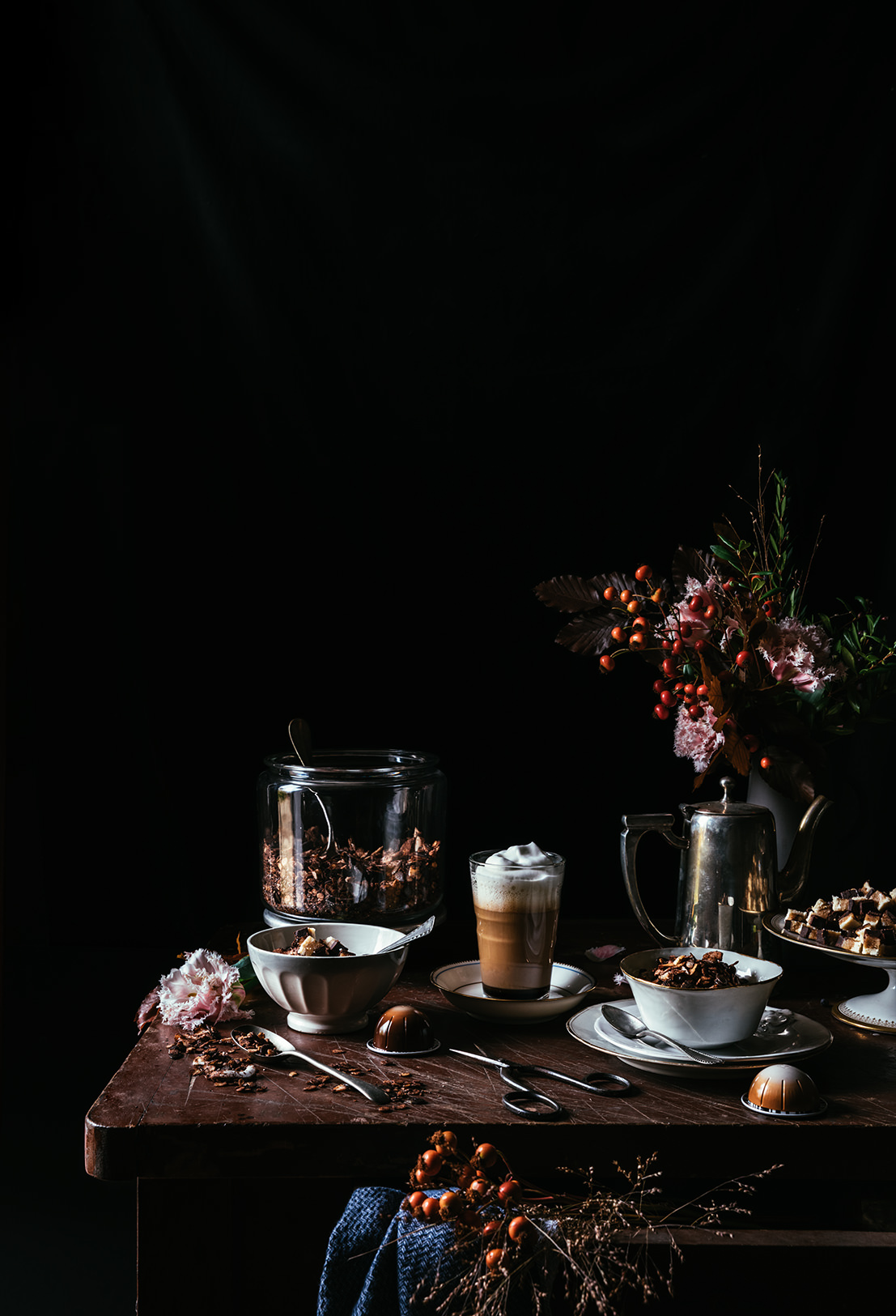 The room where I shoot most of my pics at the countryside is an old barn with no glass windows but wooden shutters where they used to store grain sacks.
The temperature is perfectly cool in Summer but colder in Winter, so much that I have to shoot wearing layers like an Eskimo.
The light is so magical that I don't pay attention anymore and I warm up myself drinking coffee directly from the machine I have installed there.
So when Nespresso asked me to imagine a recipe around the Vertuo range (coffees dedicated to milky recipes), I took the opportunity to shoot and drink delicious coffee at the same time, how cool is that?
To pair with this Barista inspired range, more precisely Bianco Leggero and Bianco Forte depending if you want more coffee or more milk in your cup, I have created a chocolate granola with vegan chocolate and peanut bonbons.
Bianco Forte is a mix of different arabicas of Colombia and Kenya, roasted separately in order to highlight their full toasted and intense aromas. Ideally, and to savor intensely Bianco Forte, pour 50ml of cold milk first and then add 230ml coffee. Bianco Leggero is a mix of arabicas of Kenya and Indonesia, lightly toasted so their aromas are still preserved.  The best way to enjoy Bianco Leggero is to serve it as a double cappuccino with 80ml coffee and 120ml milk foam. For more information on Vertuo, click here and for the e-shop, click here. #NespressoMoments #collaboration And pssst : the capsules can be recycled in the yellow garbage containers  !
Ingredients for the granola:
330g spelt oats
80g coconut flakes
20g chia seeds
150g sunflower seeds
150 ml maple syrup
70g coconut oil
25g unsweetened chocolate powder
Ingredients for the chocolate & peanut bonbons:
140g cashews
30g grated coconut
4 tbsp coconut oil
5 Medjool dates, pitted
2 tbsp peanut butter
50 g unsalted peanuts
200g (80%) dark chocolate
Recipe:
The day before, in a blender, mix the cashews, the grated coconut and 2 tbsp of coconut oil, you'll get a moist dough
Spread it evenly in a dish and place it in your freeze for the night
In a blender, to make the caramel, mix the dates, the coconut oil, the peanut butter and the unsalted peanuts; set aside
The next day, retrieve the dish from the freezer and spread the caramel on the dough; put it back in the freezer
Melt the chocolate in a bain-marie and pour it (tepid) on the caramel (as it is frozen, it won't move or melt)
Place the dish again in your fridge before cutting it into little squares
Preheat your oven to 395°F
In a bowl, mix the oats, the coconut flakes, the chia seeds, the maple syrup, the melted coconut oil, the chocolate powder and the sunflower seeds.
In an oven proof pan, covered with baking paper, spread the granola evenly and place it in the oven
Bake the granola for approx. 20 minutes while stirring from time to time (as it is covered with chocolate powder, you won't see if it's too golden). Stop your oven, retrieve the pan and leave the granola to "dry' before storing it in a air tight container
Serve the granola with yogurt or milk and top with the chocolate and peanut bonbons
You can keep the granola for months and the bonbons for 3-4 days