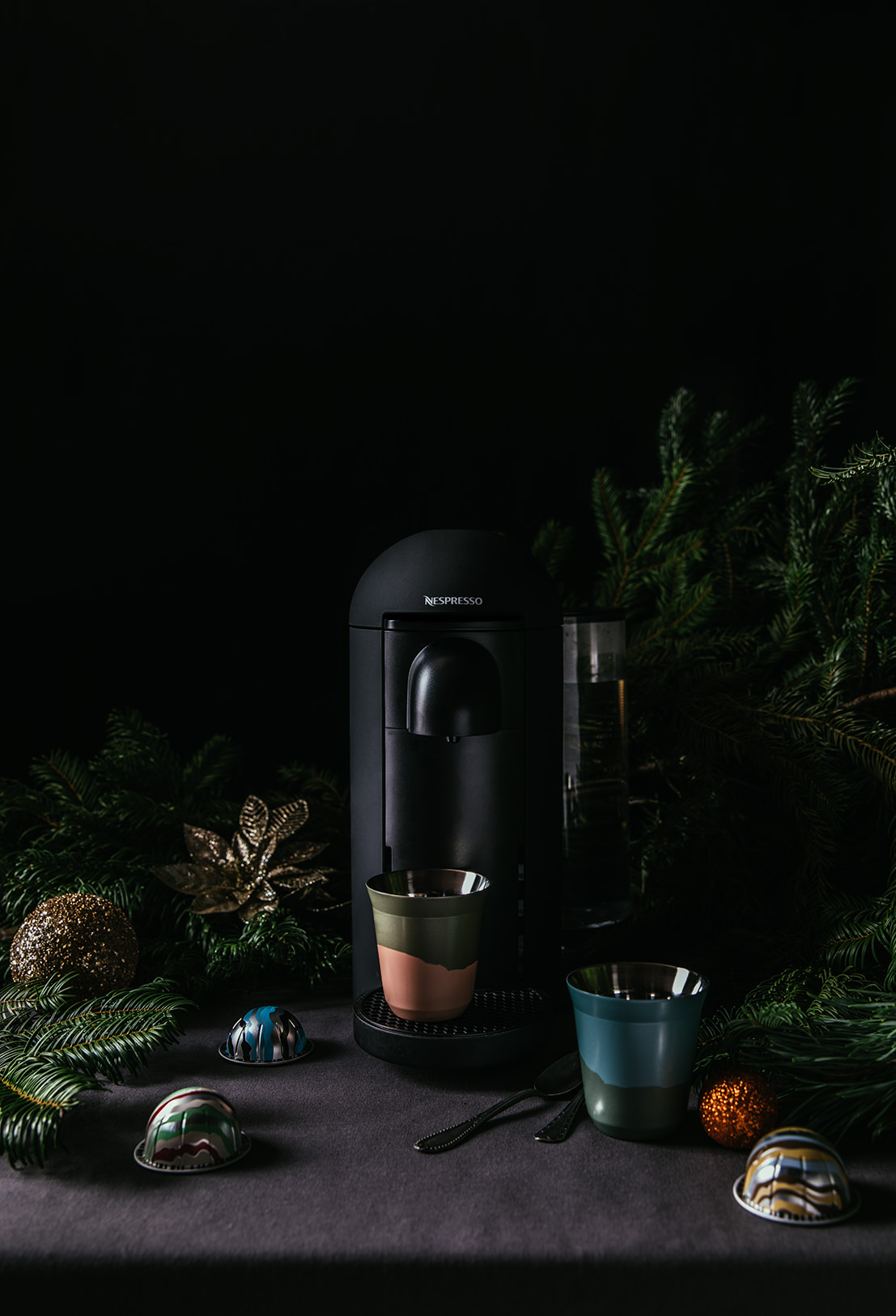 The Holiday Season is near and I wanted to offer you amazing gifts !
I have always been a great fan of flavored coffees that I used to bring back from London or NY to Paris in my suitcases.
Nowadays, flavored coffees are easy to find in Paris but my love for them has not changed…
For Christmas and in limited edition, Nespresso has developed a Variations Vertuo range, a delicate range inspired by Scandinavian pastries (Vanilla princess cake, Cinnamon swirl et Nordic black) and which design has been imagined by Danish Louise Campbell.
To pair with these delicious coffees, I have prepared little hazelnut and cardamom biscuits.
I've chosen to grind my own hazelnuts and not powder, but you can decide to buy the latter at an organic store.
The crushed and grinded cardamom will have a stronger taste than powder, you can adapt the recipe depending on your own taste !
Theses biscuits are easy to make and can be kept for a long time in an air-tight container.
For you to enjoy the Vertuo range coffees, I would love to propose this contest: you can win a Vertuo coffee machine (with the color of your choice), 2 cups and 3 capsule sleeves. In order to win you need to :
– like the post on IG
– add a comment and name the person who you want to offer this gift to. You can name as many friends as you want in order to win (1 friend = 1 comment)
End of the contest on the 18th at 12:00AM
(sorry only one possible winner in France except Corsica) 
Good luck to all of you !
#NespressoMoments #NespressoVariations #collaboration #hygge @
nespresso.fr
Ingredients:
85g whole hazelnuts

45g cane sugar

190g spelt flour

125g organic butter

6 tbsp maple syrup

1 tsp cardamom powder (or one cardamom pod grinded) 

1 tsp baking powder
Recipe : Recette:
Grind the hazelnuts with a blender (you can leave small bits)

In a bowl, mix the grinded hazelnuts, the sifted flour, the sugar, the cardamom and the baking powder 

Create a well in the middle of the mix, add the melted butter and mix again well starting from the center 

Add the maple syrup and mix well again

Preheat your oven to 395°F

On a oven proof baking tray covered with cooking paper, spread the dough with a rolling pin (I suggest you cover your rolling pin with the same cooking paper or cling film, it's so much easier)  

Cut some disks with a cookie cutter and spread them out on the baking pan 

Bake them for approx. 10 to 15 minutes till they are slightly golden. Leave them to cool down on a grid

Once at room temperature, you can decorate them with icing sugar

Keep them in an air-tight container for few days